Welcome to Tennant Metallurgical Group
Established in 1794 the Tennant Metallurgical Group's (TMG) main activity is the worldwide sourcing, importation, sale and distribution of metallic ores, pure metals and ferro alloys to the European steel, foundry, refractory and ceramic industries. TMG has strong, long term relationships with major mining houses and ferro alloy producers enabling us to maintain a consistently high standard of service and product quality for our varied customer base.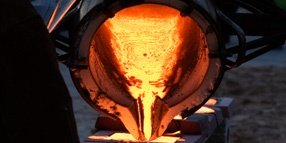 Find out more
Product Range
Tennant Metallurgical Group is able to supply a wide portfolio of products for the metallurgical related industries. These include Ferro alloys, pure metals, refractories and ceramic materials as well as other specialised products. Strategically placed warehousing together with a wide understanding of customer requirements means an effective supply chain is maintained.
Click here to find out more
Maximag®

MAXIMAG® is a high purity soft iron suitable for the manufacture of frames, yokes, armatures, cores etc in telephone relays, solenoids, magnetic clutches, magnetic brakes and all stationary parts of magnetic circuits carrying a direct flux.
Many other applications in the electrical and electronic equipment industry.
Also used for Sacrificial Anodes, for example in the protection of condensers and pumps for the electricity generation and shipping industries and in water de-salination plants.
Whilst strategic stock sizes are held, semi finished material is always available to enable further processing to satisfy individual customer requirements.
Find out more about Maximag®
OUR PRODUCTS
Please choose one of the highlighted elements to read more